S-Sharp
> Applications > Array Platform > Prodigy RT for MATLAB
S-Sharp is committed to delivering innovative and advanced ultrasound research platforms to support researchers for their distinctive studies across many applications in ultrasound.
Prodigy, with a unique and efficient GUI-based Ultrasound Pulse Sequence Mode, is fully programmable and easy to control over transmit, receive, data transfer and imaging processing in real time. In order to facilitate investigators to speed up their advance ultrasound development using Prodigy, in addition to the C# software interface, a powerful and popular MATLAB software interface is now also added.

Three modes are available to assist investigators to program data acquisition and signal processing more efficiently based on the MATLAB programming environment.
Asynchronous Mode
Independent imaging processing while proceeding the data acquisition continuously.

Link examples:
 Real-time display conventional B scan and Plane-Wave imaging
Prodigy AI: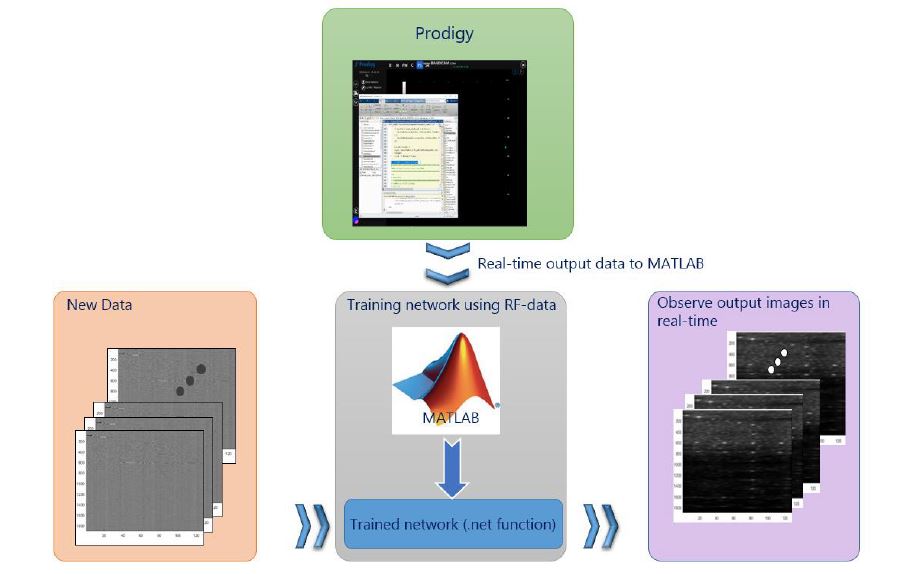  Real-time performed AI-beamforming
 AI-plane wave compounding
 AI-post processing
Synchronous Mode
Start next data acquisition after imaging processing of the previous frame is completed.

Link examples:
 Real-time display RF-channel data
 SWEI using single push
 SWEI using multiple pushes
 SWEI using multiple pushes with a phantom contain one inclusion
One-Shot Mode
Perform imaging processing after all data have been acquired.

Link examples:
 Doppler imaging using phantom in pulsed flow mode
The Prodigy system is designed to provide both the RF-Data and Beamformed Data for saving, and there are three types of beamforming methods are supported, Conventional line by line scanning, Ultrafast (plane wave beamforming), Photo-acoustic imaging (one-way beamforming).
The output data types are different and schematic diagrams as shown below.